After a visit of China's Prime Minister LI Keqiang to Japan, the development of hydrogen-based fuel cell cars in China gains momentum. The official development plan now provides for 50,000 vehicles by 2025, and car manufacturers such as BAIC, SAIC, Great Wall Motors and Dongfeng are now involved in the development of hydrogen-powered passenger cars, partially based on free licenses from Toyota, which put this development on the road in 2014 with the Toyota Mirai. The necessary infrastructure for hydrogen production and refuelling is to be created within the framework of a China Hydrogen Fuel Cell Alliance 中国氢燃料电池联盟, and between 2019 and 2021 more than 40 hydrogen refuelling stations are to be set up in the Yangtze Delta around Shanghai alone. Two excellent reviews by JETRO (in Japanese) and by Elektroauto News (in German) cover the outlook for the coming years.
https://www.jetro.go.jp/biz/areareports/2019/e4192697fec6cd9e.html
China Seed Group Co. and others are promoting the spread of hybrid wheat into countries such as Pakistan, Bangladesh and Uzbekistan and have gained support from local farmers, an excellent example of China's expansion through modern agricultural high-tech...
read more
Window-to-China
Overview of last view Blogs
On an exhibition area exceeding 140,000 square meters, more than 3300 exhibitors from China and about 100 nations exhibited over 10,000 projects. Apart from the main venue of the Shenzhen Exhibition Center, three sub-venues focused on Human Resources High-Tech, an Emergency Safety Technology Exhibition, and a Science Promotion Exhibition.
JST Japan China news, November 13, 2019
Porous polyolefins are widely used as barrier against short circuits in commercial lithium ion battery separators due to their excellent electrochemical stability. However, their porous structure results in poor mechanical properties, especially when the diaphragm is subjected to external local impact. A team of the CAS University of Science and Technology of China has substituted the random structured ceramic nanoparticle layer, presently used on top of the separator, by ion‐conductive porous multilayers consisting of highly oriented aragonite platelets. This nacre‐inspired coating can sustain external impact by turning the violent localized stress into lower and more uniform stress due to the platelet sliding, as shown by good cycling stability under external shock.
According to a speech of China's Ministry of Industry and Information Technology, China's 5G construction accelerates, and more than 130,000 base stations will be installed by year's end. By retrofitting existing 1.97 million site resources and 10 million site class resources, the deployment of a nation-wide 5G network will be greatly accelerated.
Japan JST China news, November 4, 2019
Oligomannate (GV-971: sodium oligomannurarate) developed by Shanghai Green Valley Pharmaceuticals was approved by the NMPA as a drug to improve cognitive improvement of patients with moderate Alzheimer disease (AD). The multi-center randomized Phase III study which led to the approval was done for 36 weeks at 34 first-class hospitals in China on a total of 818 patients with mild to moderate AD between ages 50 to 85. The results showed that oligomannate produced a statistically significant improvement in cognitive function after 4 weeks of administration, and the effect persisted. Oligomannate is thought to improve cognitive function by improving dysbiosis of intestinal microbiota, suppressing abnormal increase of intestinal bacterial metabolites, regulating inflammation of the peripheral and central nervous system, and by reducing excessive phosphorylation of tau, resulting in less deposits of amyloid protein. GV-971 was co-developed by Ocean University of China, CAS Shanghai Institute of Materia Medica (PI GENG Meiyu) and Green Valley Pharmaceutical Co.
Japan JST China news, November 12, 2019
Xinhua news release, November 5, 2019
China is experimenting with hi-tech waste containers, partly according to the "trash to cash" principle. In Chongqing, the user identifies himself by facial recognition and thus puts the "wisdom container" into operation, which sorts the waste using AI technology or printed QR codes, e.g. on recyclable plastic bottles. In Shanghai, citizens themselves sort by four color codes for recyclable, hazardous, dry and wet waste. In Nanjing, after facial recognition, users can have recyclables sorted out of their garbage and credited to their cash account according to a points system.
China Times, October 16, 2019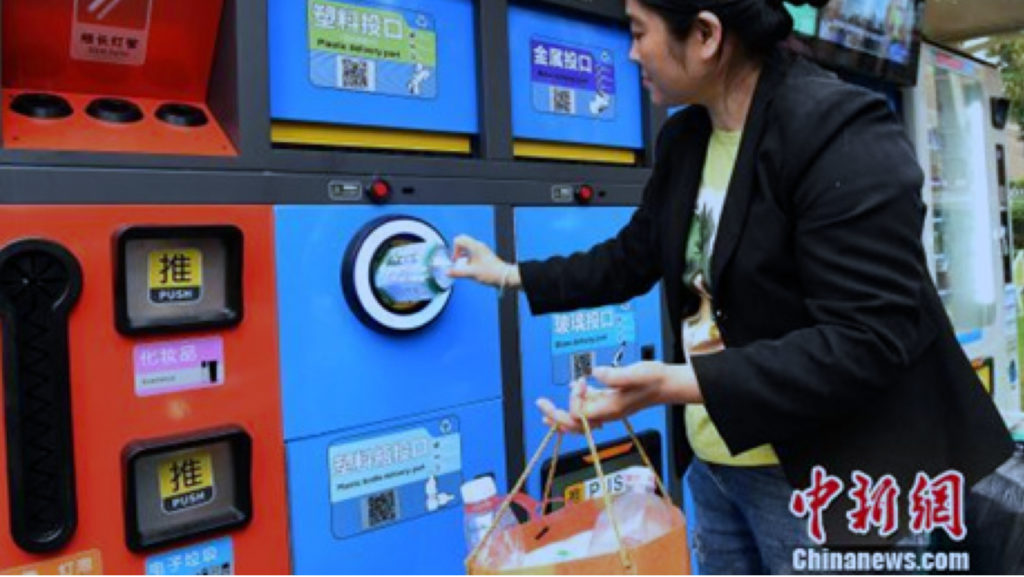 China accounted for about 1.5 million or 46.4% of the 3.3 million patent applications filed in 2018. China also accounted for 96.6% of the 2.1 million utility model applications.
WIPO World Intellectual Property Indicators 2019
On 13 October, the State Council published a national plan for the control and containment of AIDS for the years 2019-2022 (《遏制艾滋病传播实施方案(2019-2022年)》). The responsible ministry is the National Health Commission (NHC 卫健委), and nine other ministries or departments of the central government are involved, including the Ministry of Education MOE and the Ministry of Science and Technology MOST.
At the end of 2018, there were 1.25 million HIV-infected persons registered in China; in 2017 alone, around 135,000 new registrations were made. The estimated number of unreported cases is at least 30%. The plan sets out a number of goals: to reduce the transmission of mothers to babies to below 4% of new infections, and to inform more than 95% of all students about the diagnosis of HIV and its transmission routes.
According to a blog, between July and September 2018 about 80% of all deaths from infectious diseases were due to HIV. The Chinese Association of Sexually Transmitted Diseases and AIDS Prevention and Control (中国性病艾滋病防治协会) reported that since April 2018, 10 universities have installed a total of 22 HIV diagnostic machines on campus. Only a coded urine sample has to be placed in the vending machine. The urine donor then receives the results online and anonymously within the next 3 to 5 working days. In one month 59 kits were sold and 37 samples returned, two of which were HIV positive.
GTAI PharmaUpdate October 2019
(contributions of Dr Xin XIONG are gratefully acknowledged)
Researchers from the Chinese Academy of Sciences have successfully employed genetic barcoding to tell original drugs of Traditional Chinese Medicine (TCM) from adulterants. Extracts of Drynaria roosii Nakaike are traditionally used in China for the treatment of bone diseases, but extracts from some closely related plants are without effect. Comparing chloroplast genome sequences of all these plants, 12 protein-coding genes and eight intergenic sequences with high divergence in chloroplast genomes were identified and led to the development of four primer pairs which allow to distinguis D. roosii from adulterants and guarantee for the quality, safety, and effectiveness of the drug.
CAS news release, October 24, 2019
Beijing, the center of science and technology innovation nationwide, makes science and technology innovation the most important activity. Beijing has a particularily strong R&D system in terms of scientific research management, performance evaluation, rights and benefits of scientific and technological achievements and long-term financial support. New R&D institutions such as the Beijing Institute of Quantum Science and Information Science and the Center for Brain Science are examples of continuing investment.
Japan JST China news, October 10, 2019
The new standards stipulate 2191 residual values ​​and requirements for use of 267 veterinary drugs for livestock and poultry, marine and bee products. It covers almost all veterinary drugs commonly used in China, the main animals used for food production and will come into effect on April 1, 2020. The new standards adopt CAC standards (International Food Standards Committee) to an extent of about 90%. Important technical values ​​such as allowable intake, residual standard values and usage requirements were completely revised. For more than 10 veterinary drugs with food safety risks such as ofloxacin, significant changes were issued.
Japan JST China news, October 10, 2019
The truck measures 10.2 meters long, 5.4 meters wide and five meters tall, and has a carrying capacity of 110 tonnes. It can plan its mission and route for itself, load and unload automatically, and drive by itself. The new unmanned mining truck features integrated direct line control, image processing, wireless communication and AI technologies.
CAS news release, October 23, 2019
The company's http://www.mth2.com technology was licensed from CAS Dalian Institute of Chemical Physics. The fuel cells are claimed to have small size, low cost, light weight and good low temperature adaptability. The volumetric specific power is 3.0 kW/L. In addition to being used in commercial vehicles, they are intended for broad application in the fields of passenger cars. Prototypes with different power output and specifications have been tested in Ankai Bus, Shenlong Bus, Jinlong Commercial Vehicle, and Cherry Logistics Vehicle.
CAS news release, October 23, 2019 
In order to encourage residents to separate trash, Nanjing City has introduced "trash banks" that integrate functions such as face recognition, remote monitoring, and trash disposal. The residents first perform face recognition, and then sort out the trash. The system returns points to the user's account based on the number of recyclables contained in the garbage. Eventually points can be turned into cash.
Japan JST China news, October 22, 2019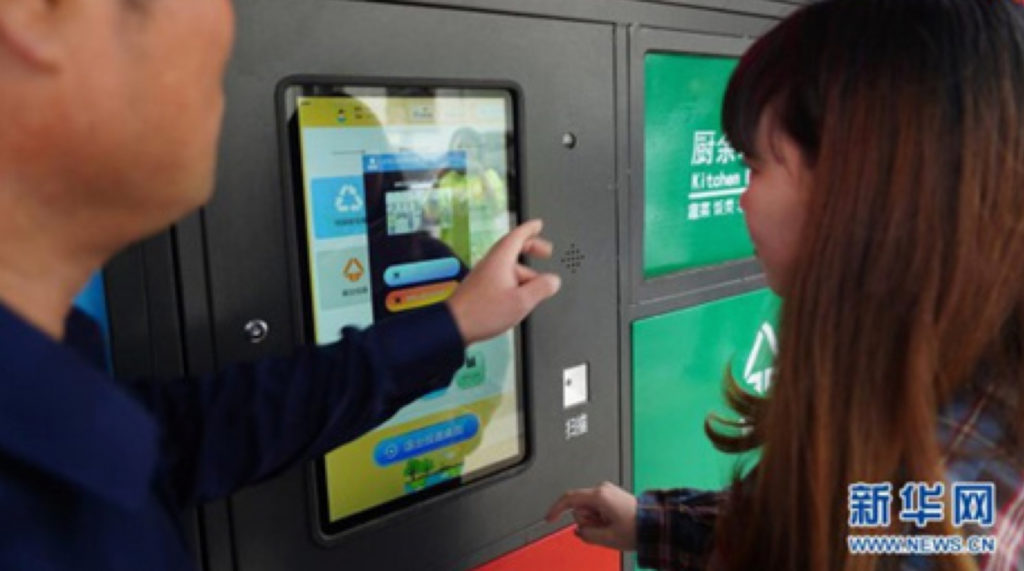 According to the China Internet Development Report 2019, the internet penetration rate in China in June 2019 had reached 61.2%, with 854 million users. The number of websites was 5.18 million.
The number of Internet users in China is 854 million and the Internet penetration rate is 61.2%. The number of online education users was 232 million.
The number of fixed broadband users reached over 435 million, with 396 million connected to optical fiber. There were 7.32 million mobile Internet base stations. Of these, 4G accounted for 4.08 million units (60.8%). On June 6, the first 5G commercial license was issued.
Japan JST China news, October 21, 2019
The pressurized water reactor is claimed to rest on China's own IP and meets the latest nuclear safety standards. So far, the company has built 4 units of this reactors in the 1 GW class.
Japan JST China news, October 21, 2019