After a visit of China's Prime Minister LI Keqiang to Japan, the development of hydrogen-based fuel cell cars in China gains momentum. The official development plan now provides for 50,000 vehicles by 2025, and car manufacturers such as BAIC, SAIC, Great Wall Motors and Dongfeng are now involved in the development of hydrogen-powered passenger cars, partially based on free licenses from Toyota, which put this development on the road in 2014 with the Toyota Mirai. The necessary infrastructure for hydrogen production and refuelling is to be created within the framework of a China Hydrogen Fuel Cell Alliance 中国氢燃料电池联盟, and between 2019 and 2021 more than 40 hydrogen refuelling stations are to be set up in the Yangtze Delta around Shanghai alone. Two excellent reviews by JETRO (in Japanese) and by Elektroauto News (in German) cover the outlook for the coming years.
https://www.jetro.go.jp/biz/areareports/2019/e4192697fec6cd9e.html
After a visit of China's Prime Minister LI Keqiang to Japan, the development of hydrogen-based fuel cell cars in China gains momentum. The official development plan now provides for 50,000 vehicles by 2025, and car manufacturers such as BAIC, SAIC, Great Wall Motors...
read more
Window-to-China
Overview of last view Blogs
According to a review at a national telecommunication symposium held on August 1 in Dunhuang, Jiuquan, Gansu Province, the optical fiber network penetration in Chinese cities has reached 91%, with 100 MB/sec as the main choice for broadband users. In administrational villages, penetration rate exceeded 98%. The number of 4G base stations reached 44.4 million, and the 4G penetration rate 77.6%. In recent years, China's fixed broadband household and mobile broadband user penetration rate have significantly improved, the former to 89%, the latter to 96%.
Japan JST China news, August 2, 2019. Original article http://www.china.com.cn/zhibo/content_75054628.htm
Modern solar farming has been established in Dongping Town, Fujian province. The area of the project is approximately 133.3 hectares, integrating photovoltaic electricity generation, agricultural production and touristic services. The annual power generation is about 90 million kWh, and the power is incorporated into the national grid. Farmers in mountainous areas thus develop new means of prosperity.
Japan JST China news, July 31, 2019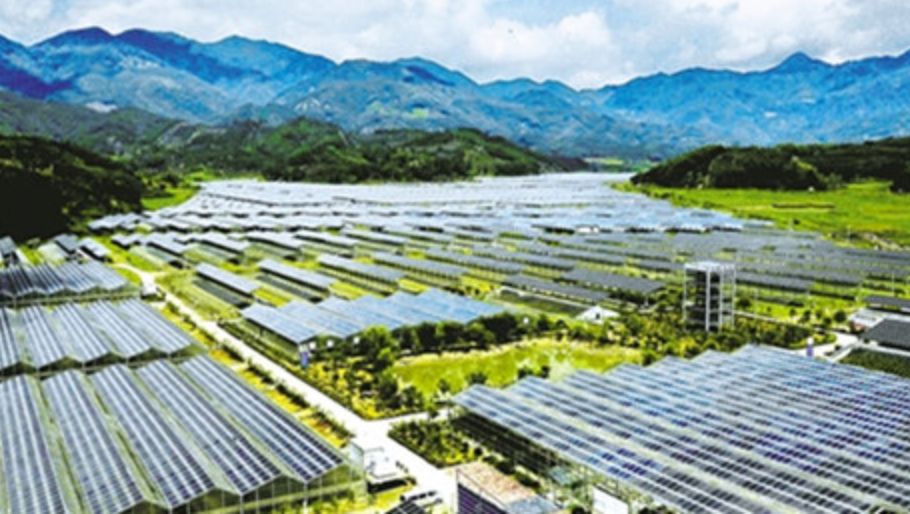 The chip is based on a hybrid architecture combining a many-core architecture, reconfigurable building blocks and a streamlined dataflow with hybrid coding schemes. It can not only accommodate computer-science-based machine-learning algorithms, but also easily implement brain-inspired circuits and several coding schemes. Using just one chip, the team around Luping SHI demonstrated the simultaneous processing of versatile algorithms and models in an unmanned bicycle system, realizing real-time object detection, tracking, voice control, obstacle avoidance and balance control.
Nature 572, pages106–111 (2019)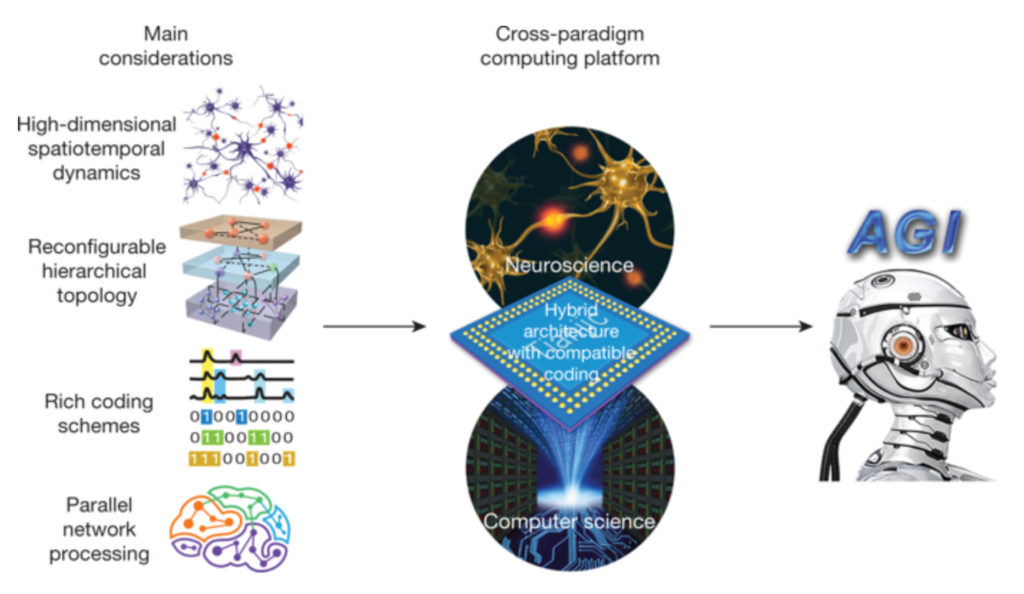 The group of WU Zhongshuai from DICP has used a thixotropic ink based on manganese dioxide, zinc powder and graphene as active materials, to produce the positive, negative electrodes and the current collector of Zn//MnO2 batteries, respectively. In a multi-step screen printing process, a simple and low-cost preparation of planar Zn//MnO2 micro-batteries was achieved. The Zn//MnO2 batteries showed exceptional durability, with a capacity of 83.9% for 1300 cycles at current density of 5 C, good mechanical flexibility and uniform performance.
CAS news release, July 17, 2019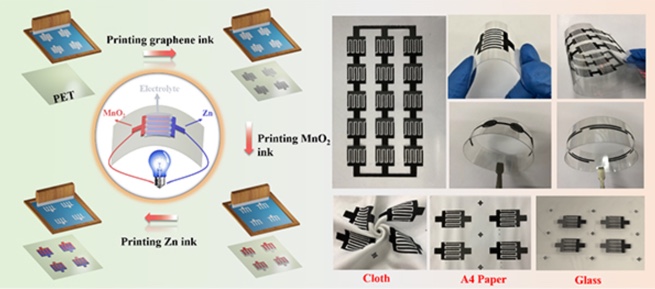 An improved facial recognition point-of-sales system of Alipay, named Dragonfly, has been upgraded by "beauty filters", upon complaint by female consumers that facial recognition machines captured unflattering images. According to the company, this new feature has attracted more female consumers to pay with this system.
Alipays new system is now installed in over 40 Xinhua Bookstores in Zhejiang Province and will be gradually expanded to over 14,000 outlets.
Xinhua news release, July 17, 2019
The Chinese government has set a goal of 35 percent for household garbage recycling by 2020, and Shanghai has put into effect compulsory regulations from July 1, 2019. 45 other cities are about to follow soon.
In response to this move, Alipay offers the beta phase of a "Garbage classification guide" that has indexed over 4,000 different types of waste such as  shrimp shells, facial masks, sunflower seed shells, medical cotton swabs etc. The customer takes a photo of a particular garbage or describes the garbage by voice; the software then applies either voice recognition or augmented reality (AR) scanning and image recognition, and provides suggestions by voice or text.
Reportedly, over 3 million people have already tried out the new function by scanning waste items with their smartphones, which answers within seconds in which type of  litter bin a waste item belongs. 
Xinhua news release, July 16, 2019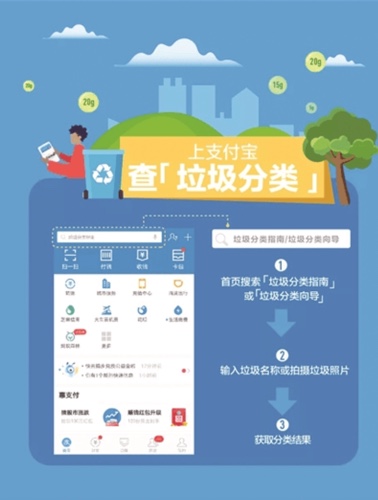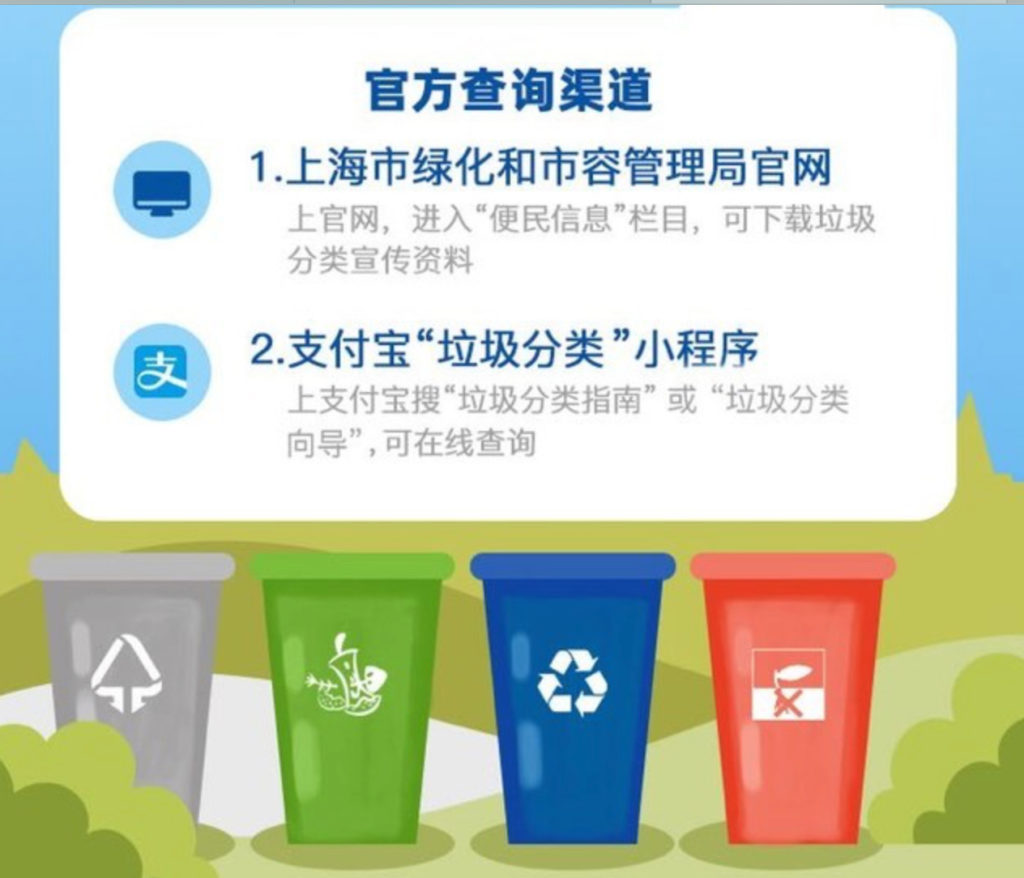 In a recent announcement, 13 projects with a total funding of 267 million yuan were noted. Some major projects are:
"Redesign and construction of microorganisms for synthesis of chemicals" PI ZHENG Yuguo of Zhejiang University of Technology, 33.77 million yuan
"Design and reconstruction of unicellular eukaryotic microalgae for engineering of medicinal products" PI HU Zhangli of Shenzhen University, 28.75 million yuan
"Construction of artificial multi-cellular systems for biomass conversion and utilization" PI Jiang Min of Nanjing University of Technology, 24.9 million yuan
" Integration technology for invasive adenoviruses" PI ZHENG Junnian of Xuzhou Medical University, 24.37 million yuan, and
"Technology using synthetic DNA for data storage" PI JIANG Xingyu of Southern University of Science and Technology, 22.03 million yuan.
This special project will focus on genome synthesis and high-grade chassis cells, artificial components and gene lines, artificial cell anabolism, complex biological systems and enabling technologies.
China Biotech Blog, July 9, 2019
The Greater Bay Area consists of Hong Kong, Macao and nine cities in Guangdong province — Guangzhou, Shenzhen, Zhuhai, Foshan, Huizhou, Dongguan, Zhongshan, Jiangmen and Zhaoqing. Since Oct. 2018, the region is connected via the 29 km Hong Kong-Zhuhai-Macao bridge. The government has now unveiled plans to build a comprehensive national science center in this area within 3 years.
Xinhua press release, July 9, 2019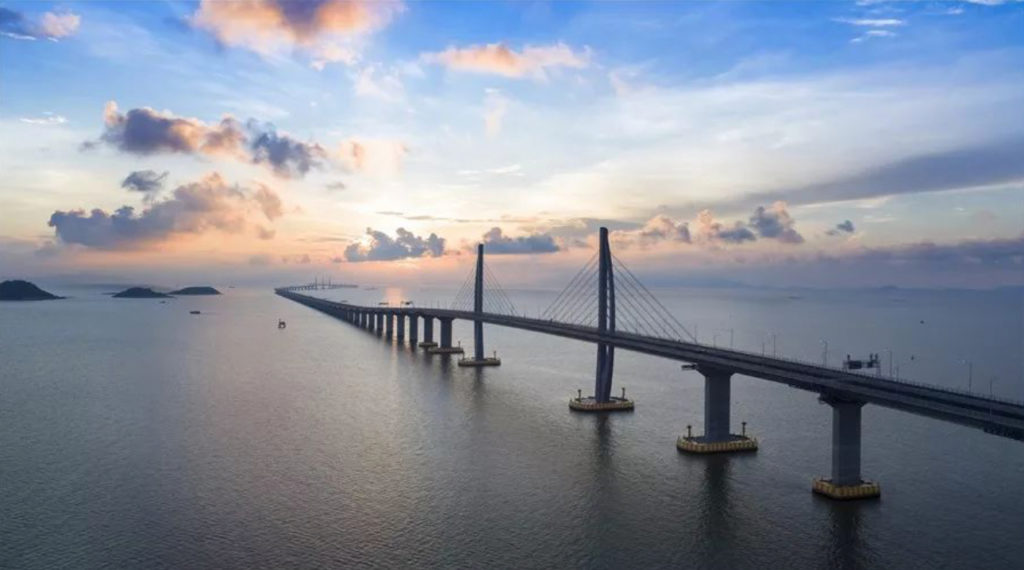 Sinopec announced that the company completed China's first gas station in Foshan City. It supplies gasoline, hydrogen and electric energy in addition to convenience services. A "Blue Book of China's Hydrogen Energy Infrastructure" issued by the National Hydrogen Energy Standardization Committee states that by 2030, 1,000 hydrogen refueling stations will be built, and hydrogen fuel cell vehicles will reach 1 million. Foshan City is a demonstration city for hydrogen energy development in Guangdong Province and plans to have 57 hydrogen gas stations built by 2030.
Xinhuanet, July 2, 2019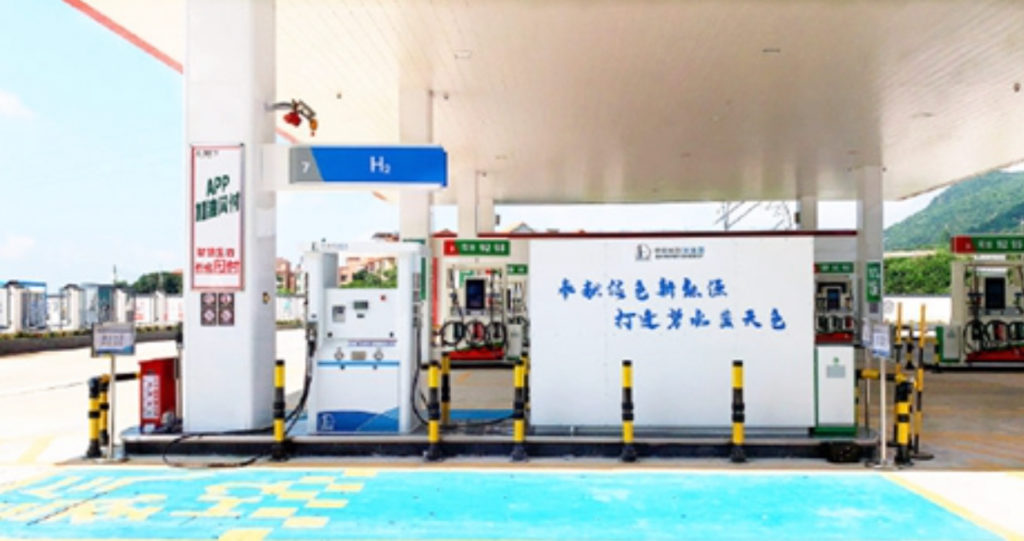 Beijing has delivered close to 6000 5G base stations to three telecommunication operators by the end of May, 2019. According to Beijing Youth Daily newspaper, 4300 of these stations were already installed in Beijing's urban core areas such as the new airport, the International Horticultural Exhibition, Tiananmen square, Chang'an Avenue and venues for the 2022 Winter Olympics. By 2021, these core zones, the central business district of Beijing, and several innovation centers and ecotech development areas will have 5G network coverage.
Xinhua news, June 11, 2019

The group of SUN Xiaoqi from CAS Fujian Institute of Research on the Structure of Matter has developed a new method for the isolation of rare earth metals from softening ammonia sulfate wastewater produced during bastnasite ammonia sulfate roasting. Based on alkyl phenoxy carboxylic acid derivatives [4,4′-isopropylidenebis (phenoxyacetate)]as a cation exchanger, Ca2+and Mg2+are precipitated from the wastewater within 10 min, forming particles which can be easily separated. The ion exchanger was repeatedly used 5 times with little loss, contributing to a process with low cost and little pollution.
CAS news release, May 31, 2019

The group of PAN Xiulian and BAO Xinhe have developed a new ZnMnOx-zeolite catalyst which allows for selective syngas conversion to mixed light olefins with a high selectivity. The transformation of syngas to gasoline had a selectivity of 77% at 20% CO conversion and an aromatics content of < 16%. The ratio of isoparaffins to n-paraffins was 15, giving a research octane number of 92 in contrast to about 35~43 obtained by the conventional low temperature Fischer-Tropsch synthesis.
CAS news release, May 29, 2019
CRRC Qingdao Sifang Co., the train building company, is currently building an experimental center and a trial production center for high-speed maglev trains and expects to put them into operation in the second half of 2019. R&D of a five-carriage engineering prototype are reportedly going smoothly. The engineering prototype is scheduled to roll off the production line in 2020 and go through comprehensive tests to finish integrated verification in 2021.
Xinhua news release, May 24, 2019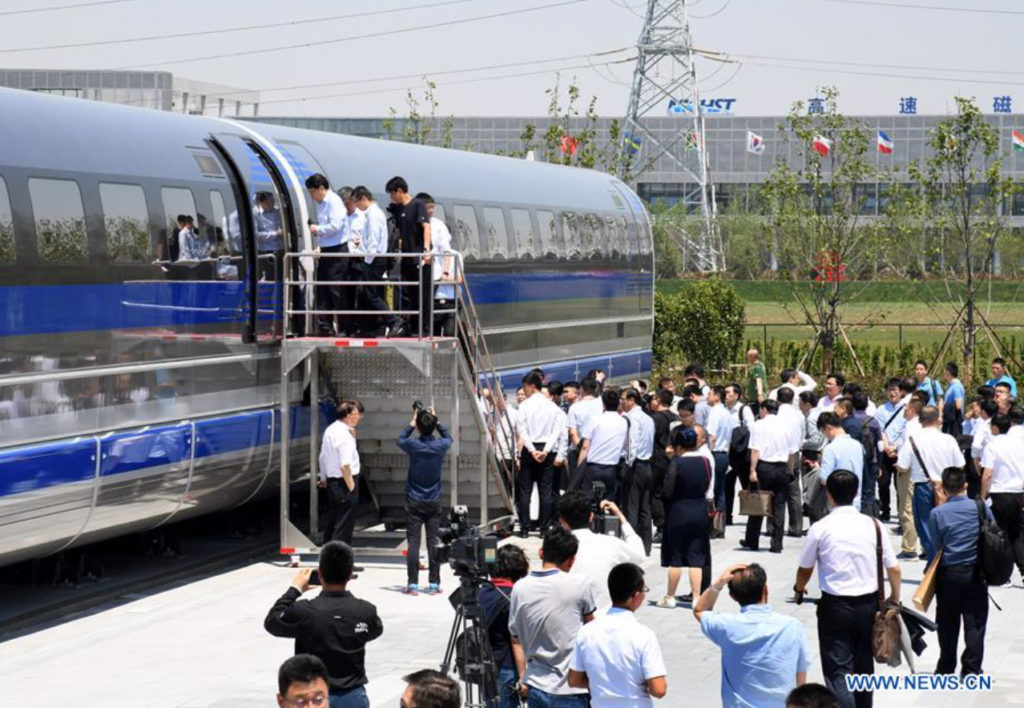 ZTE is a major international provider of telecommunications gears, competing with Huawei, Ericsson and Nokia for clients such as mobile operators. Its Rome laboratory, opened May 21, aims to provide global customers, regulators and other stakeholders with security assessment and audit services, such as source code review on ZTE products including 4G and 5G, security design audit, procedural document review, black box testing and penetration testing.
Xinhua news release, May 23, 2019
At the World Intelligence Congress held in Tianjin last week, Tianjin University and China Electronics Co. have presented a portable chip can which can identify minor neuron information sent by the brain wave from the cerebral cortex, efficiently decode the information and greatly quicken the communication speed between the brain and machine. It was claimed that the performance of the chip would be further enhanced for wider use in the fields of medical treatment, education, home life and gaming.
Xinhua Net, May 19, 2019