Acording to a talk at Beijing Cyber Security Conference, around 48.5 percent of China's government agencies and 56.3 percent centrally-administered state-owned enterprises have deployed security operation centers, and the response time to security events has been reduced to less than one hour from about three days in 2016.
In the first half of 2019, more than 100 million enterprises' computers had security software installed, while the number in 2016 was around 60 million. The repair cycle for computer system vulnerabilities has dropped to 16 days from 35 days in 2016. In a special campain, the Office of the Central Cyberspace Affairs Commission, the Ministry of Industry and Information Technology, the Ministry of Public Security and State Administration for Market Regulation evaluated more than 400 popular apps on the collection of personal data, and around 100 apps were asked to make improvements in data protection.
Xinhua-net news release, September 10, 2019
Acording to a talk at Beijing Cyber Security Conference, around 48.5 percent of China's government agencies and 56.3 percent centrally-administered state-owned enterprises have deployed security operation centers, and the response time to security events has been...
read more
Window-to-China
Overview of last view Blogs
A team around LU Zunfeng at Nankai University in Tianjin has prepared an artificial spider silk made from polyacrylic acid and silica nanoparticles. It consists of hierarchical core-sheath structured hydrogel fibers, which are reinforced by ion doping and twist insertion. The fiber exhibits a tensile strength of 895 MPa and a stretchability of 44.3%, achieving mechanical properties comparable to spider silk. The material also presents a high toughness of 370 MJ m−3 and a damping capacity of 95%.
Nat Commun 10, 5293 (2019) doi:10.1038/s41467-019-13257-4
According to the China Meteorological Administration (CMA), data receiving equipment for meteorological data from Fengyun-2H satellites has been delivered to to Kyrgyzstan and Mozambique. China has launched a total of 17 Fengyun meteorological satellites, with seven currently in orbit. The CMA has organized nine international training courses on the application of the satellites since 2013, with nearly 200 trainees attending.
Xinhua news release, November 16, 2019
At the Forum 2019 on Science and Technology for Agricultural and Rural Development in in Nanjing, a poll by experts on the 10 most significant advances in agricultural science were announced. These were:
1. Metabolomics in search of the "lost tomato flavor". HUANG Sanwen, CAAS Shenzhen Institute of Agricultural Genomics
2. "Selfish genes" controlling fertility of indica-japonica hybrid rice crosses
WAN Jianmin, CAAS Crop Science Research Institute and Nanjing Agricultural University
3. Identification of genes with both high yield and resistance to rice blast
LI Jiayang, CAS Institute of Genetics and Developmental Biology and CHEN Xuewei, Rice Research Institute of Sichuan Agricultural University,
4. Identification of key genes that balance yield and fertilizer efficiency in co-regulation of carbon and nitrogen metabolism
FU Xiangdong, CAS Institute of Genetics and Developmental Biology
5. 3000 rice genomes resequencing for post-genomic rice breeding
LI Zhikang CAAS Institute of Crop Sciences
6. Genome resequencing of 419 upland cotton core germplasms in major cotton-growing countries such as China, the United States, and Australia, for better cotton fiber quality and yield
MA Yingying, Hebei Agricultural University, and DU Xiongming, CAAS Cotton Research Institute
7. High-density mutation map of cotton diploid population showing the molecular evolution of Asian cotton from south to north.
LI Fuguang, CAAS Cotton Research Institute
8. Vaccine which blocks transmission of H7N9 virus from birds to humans.
CHEN Hualan CAAS Harbin Veterinary Research Institute of the Chinese Academy of Agricultural
9. Transferable colistin resistance genes in healthy people found as high as 15%, requiring further drug resistance control and controls in livestock breeding in China.
SHEN Jianzhong, China Agricultural University
10. Molecular mechanism of multiple pattern recognition of receptor-mediated activation of the silk fibroin kinase cascade in plant resistance
Zhou Jianmin CAAS Institute of Genetics and Developmental Biology
Guangming Daily news, November 20, 2019 
At the China Digital Earth Convention in Beijing, an "Earth Big Data Prototype" system was announced which integrates "balls" of big data scattered around the earth into a "necklace" of big data through standardized display. This project is part of the 2030 Agenda of the United Nations, a digital "Belt and Road", and a panoramic view of China.
Xinhua news release, November 20, 2019
HE Guojin of the CAS Aerospace Information Innovation Research Institute has released a Global Forest Cover Map (GFCM) of 2018 at a 30-meter resolution. The map is based on Landsat satellite data and China-made high-resolution satellite data, using machine learning and big data analysis technology to achieve high-precision automatic extraction of global forest coverage. It correlates with the many goals of sustainable development in the UN 2030 Agenda.
CAS news release, Nov. 20, 2019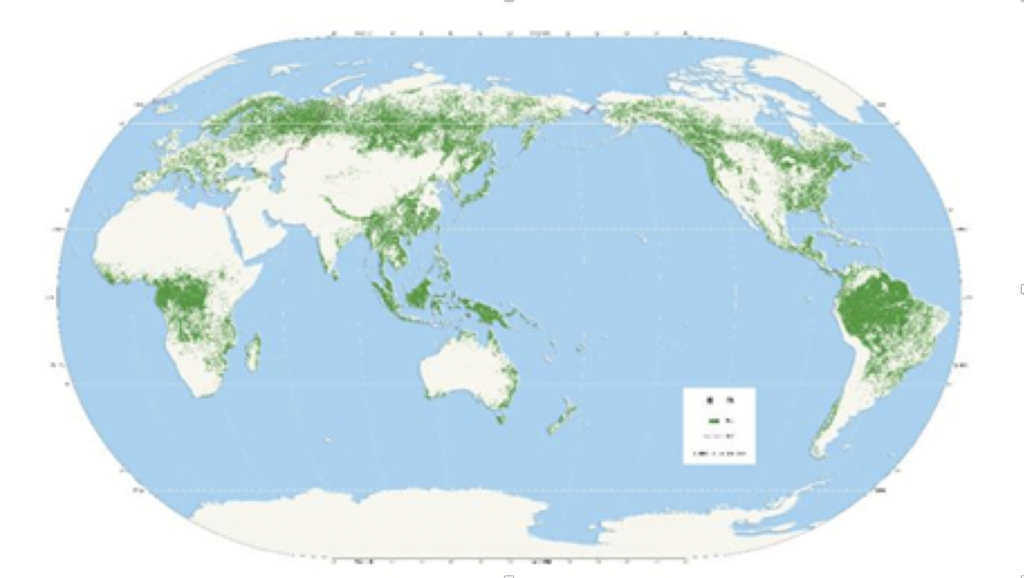 A team led by ZHOU Guanghong at Nanjing Agricultural University cultivated pig muscle stem cells for 20 days and harvested 5 g of muscle meat. This is the first meat developed from muscle stem cells in China. According to Zhou, the cultured meat had similar texture and color to ordinary minced pork.
Global Times, November 21, 2019
Based on ground observation data and satellite remote sensing, the Tsinghua team found that, compared to 2013, the average PM2.5 concentration in Hebei fell by 39.6%, in the Yangtze River Delta by 34.3%, and in the Pearl River Delta by 27.7%, Through implementation of the "Air Pollution Action Plan" of 2013 and other measures,, nationwide sulfur dioxide emissions were reduced by 16.4 million tons, nitrogen oxides by 8 million tons, and primary PM2.5 by 3.5 million tons. Improvements in industry standards such as ultra-low power conversion and improvements in key industries such as steel and concrete, countermeasures for coal-fired boilers, delayed production capacity dredging, and clean-up of civilian fuels to improve air quality, PM2.5 exposure levels across the country were reduced down to 2.2 micrograms per cubic meter.
At the 1st China Fusion Energy Conference held in Leshan, Sichuan, it was announced that "Chinese Circulator No. 2M", a next-generation tokamak device located in Chengdu, Sichuan Province, will start operation in 2020. "China Circulator No. 2M" adopts advanced structure and control method, and the plasma temperature is expected to reach more than 200 million degrees Celsius. The equipment will participate in related experiments and operations of the International Thermonuclear Experimental Reactor (ITER).
Japan JST China news, November 27, 2019
LING Yueming, vice minister of natural resources, said at the ongoing 10th China-ASEAN Mining Cooperation Forum and Exhibition that 100 students from ASEAN countries will come to China to pursue a master's or doctoral degree in geosciences, mining or related technologies. The country will also offer 500 short-term research and training opportunities to ASEAN countries, Ling said. At the event, about 5.29 billion yuan (about 752.19 million U.S. dollars) of deals on mining projects were made.
Xinhua news release, November 15, 2019
Oligomannate (GV-971: sodium oligomannurarate) developed by Shanghai Green Valley Pharmaceuticals was approved by the NMPA as a drug to improve cognitive improvement of patients with moderate Alzheimer disease (AD). The multi-center randomized Phase III study which led to the approval was done for 36 weeks at 34 first-class hospitals in China on a total of 818 patients with mild to moderate AD between ages 50 to 85. The results showed that oligomannate produced a statistically significant improvement in cognitive function after 4 weeks of administration, and the effect persisted. Oligomannate is thought to improve cognitive function by improving dysbiosis of intestinal microbiota, suppressing abnormal increase of intestinal bacterial metabolites, regulating inflammation of the peripheral and central nervous system, and by reducing excessive phosphorylation of tau, resulting in less deposits of amyloid protein. GV-971 was co-developed by Ocean University of China, CAS Shanghai Institute of Materia Medica (PI GENG Meiyu) and Green Valley Pharmaceutical Co.
Japan JST China news, November 12, 2019 
Xinhua news release, November 5, 2019
The group of ZHU Yuming has developed a one-pot two-enzyme system. It is based on a new type of exo-inulinase derived from Bacillus velezensis, which achieves efficient hydrolysis of inulin with a hydrolysis efficiency of 98 %, followed by epimerization with D-allulose 3-epimerase from Ruminococcus sp., which was coexpressed with the exo-inulinase as a recombinant extracellular enzymes in B. subtilis. Based on the two inexpensive enzymes, the ratio of D-glucose, D-fructose, and D-allulose in the product was approximately 1:3:1, and the yield on JA powder was 67%.
China has established two offices to develop 6G technology, one at the Ministry of Science and Technology (MOST), the other as an group of 37 experts from colleges, research academies and enterprises. Most of the 6G performance indexes will outnumber those of 5G by 10 to 100 times, with a maximum transmission speed of 1Tbps, meaning a high-definition movie can be downloaded within a second. Extended reality (XR) which combines AI and AR is expected to create virtual objects in physical reality, changeable at will. It will enable people at different geographic locations to feel like they were actually in the same space, with a seamless connection between devices and senses.
Xinhua news release, November 7 and 11, 2019
According to China's National Nuclear Corporation (CNNC), China has formed an innovation alliance to foster the research and application of extracting uranium from seawater. The alliance, led by CNNC, comprises about 20 research institutions and universities, and will focus on the technology and products used in the extraction process. It is estimated that seawater contains about 4.5 billion tonnes of uranium is, about 1,000 times of the land proven reserves. However, concentration is extremely low, making it a huge challenge to develop cost-effective seawater uranium extraction technology.
Xinhua news release, November 12, 2019
The Chinese Academy of Agricultural Sciences (CAAS) has established an extensive network of international collaboration and partnered with agricultural research institutions from more than 100 countries and regions, 40 international organizations, multinational companies and funding units. At the 6th Global Forum of Leaders for Agricultural Science and Technology, held in Chengdu, CAAS announced to invest 10 million U.S. dollars in the coming five years to promote scientific research and innovation in frontier, basic and key fields on global agricultural developments.
Xinhua news release, November 13, 2019
Inspired by natural jellyfish and rotifers such as coelenterates and floating organisms, the group of HUANG Xin at Tianjin University has developed a fully flexible "smart droplet robot" of 150 to 600 microliters size. The ultra-compact and fully programmable liquid smart robot can move, deform and sense under different environmental conditions. It can carry multiple sensors, e. g., for temperature, humidity, optical signals, stress, glucose, food toxins and wireless energy collection. It could be applied to genetic testing, chemical synthesis, and application of drugs, and has the potential to become a "blood vessel doctor" who enters the human body and conducts examinations and treatments.
Xinhua news release, November 12, 2019