The database, jointly developed with CAS Kunming Institute of Zoology, hosts 127 resequenced dog genomes and a canine gene database. It is the first integrated resource dedicated to domestic dogs and wild canids, providing a variety of data services and online analysis tools to dog researchers around the world.
CAS news release, November 27, 2018
The database, jointly developed with CAS Kunming Institute of Zoology, hosts 127 resequenced dog genomes and a canine gene database. It is the first integrated resource dedicated to domestic dogs and wild canids, providing a variety of data services and online...
read more
Window-to-China
Overview of last view Blogs
According to a statement of China Great Wall Industry Co., the company will start construction of a satellite system Hongyan which will allow users access to their exact position accurate to about 10 centimeters in less than one minute, no matter where they are, The Beidou system will obtain basic positioning data and then transmit it to ground control, which will use algorithms to improve accuracy before sending the information to the Hongyan constellation. Hongyan satellites, carrying augmentation devices in low orbit, will then further process the positioning data and deliver it to end users around the globe. China Aerospace intends to carry aloft about 60 Hongyan satellites before the end of 2022, and then place more than 200 smaller satellites in orbit to form a network called Kuilong with global reach. Kuilong would revolutionize a wide range of businesses including the internet of things and smart transportation.
Japan JST China news, December 7, 2018
Das digitale verteilte Kontrollsystem DCS kann bis zu 200 Atommeiler überwachen und im Fall von Störungen automatisch abschalten. Das in China entwickelte System gilt dort als das sicherste bisher entwickelte Überwachungssystem. Chine betreibt derzeit 44 Atomkraftwerke und hat 13 weitere im Bau.
Japan JST China news, 7. Dezember 2018
Zhejiang University has introduced a four-legged robot that can walk and climb stairs. "Shadow" can lift objects weighing 20 kilograms, is one meter long, 60 centimeters high and weighs 70 kilograms. The robot is fully electric, has a charged operating time of about two hours and can run at a top speed of just over six kilometers per hour. In the future, it will be used for security checks, logistics, education and research.  
JST Japan China news, December 5, 2018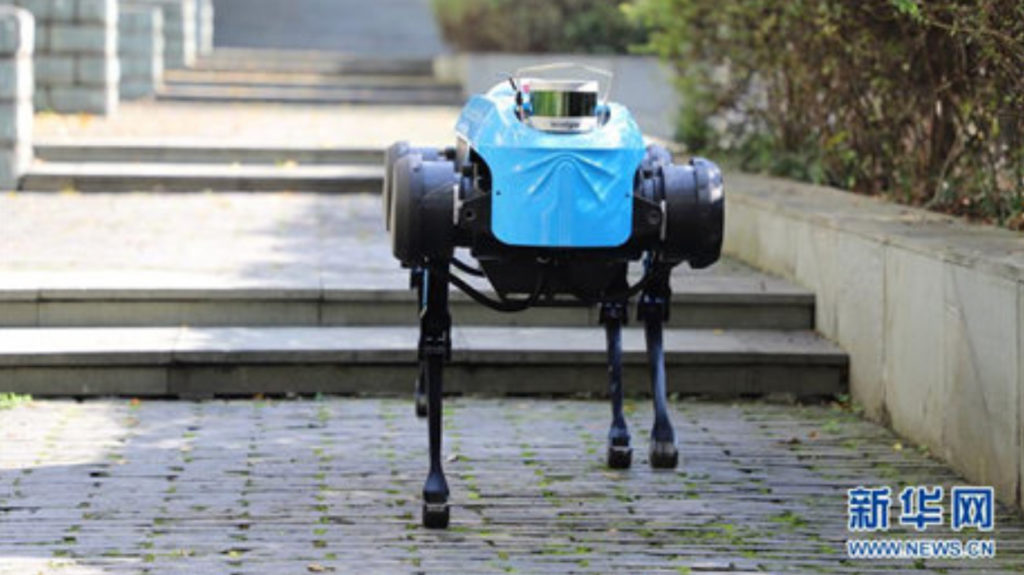 As shown by Haibo TAN and colleagues at CAS South China Botanical Garden, rhodomyrtosone B shows high antibacterial activity with a MIC of 0.62 – 1.25 µg/L against MRSA and 2.5 µg/L against vancomycin-resistant Enterococcus faecalis. They showed that the mechanism of action of rhodomyrosone B and its derivatives relates to perturbation of bacterial membrane potential and an increase in membrane permeability. By screening a series of synthetic derivatives for anti-resistant bacteria activity and their structure-activity relationship, up to 4-5 times more active lead compounds were obtained and their antibacterial activity verified
in vivo
experiment. Rhodomyrtosone B is obtained from the leaves of Rhodomyrtus tomentosa (Aiton) Hassk, also named Rose myrtle, and leaves of this plant are used for the treatment of wound infections in traditional Chinese medicine.
CAS news release, November 28, 2018
The groups of Tao JIANG and Xiangxi WANG have solved the structure of the CRISPR-CAS complex of Thermococcus onnurineus by cryo electronmicroscopy. It is the hitherto simplest structure of such complex and might be developed into a new engineering tool.
CAS news release, November 28, 2018
The team around YU Xuefeng at the CAS Shenzhen Institutes of Advanced Technology (SIAT) has developed a low-cost metal-free photocatalyst based on black phosphorus for effective photocatalysis. Using a simple ball-milling technique, the team converted red phosphorus and urea to black phosphorus and black phosphorus/CN complexes in large-scale, among which the material cost of black phosphorus in the photocatalyst was estimated to be just 0.016 RMB pear gram. By forming P-N bonds, black phosphorus and CN interacted to form a stable binary which showed broad absorption as well as effective charge separation, and possessed abundant active sites, giving rise to excellent photocatalytic performance. Without using a co-catalyst, the metal-free catalyst emitted H2 consistently at a rate as high as 786 μmol·h-1·g-1 and RhB was decomposed in merely 25 mins during visible light irradiation.
CAS news release, November 26, 2018
According to the National Bureau of Forestry and Grassland, China will have created an ecological environment as a whole by 2020 and realized the targets of "beautiful China" by 2035. The forest industry should have reached the state of developed countries by 2050. By 2020, the forest ratio will be 23 %, forest reserves 16.5 billion cubic meters, the village greening ratio 30%, grassland rate 56%, and new anti-desertification area 10 million hectares.
Japan JST China news, November 26, 2018
The team developed a graphene-based aluminum fuel cell with an energy density of 545Wh/kg and a capacity of 130kWh. The system consists of an array of six 10-cell batteries in series. Test results show that 50A current discharge power can reach 3000W, peak power is expected to be as high as 4800W. The battery system is expected to be applied to a power source or a backup power source such as an electric car. In order to demonstrate its use, the lighting of a building including power supply of the graphene-based far infrared energy heating was shown.
CAS news release, November 26, 2018
The Tibet – Changchun grid connection is considered the most complicated in the world, due to severe differences in elevation. Transmission capacity is 400,000 kW, with a target on 1 million kW. Total investiment is about 16.2 billion RMB or about 2 billion €.
Japan JST China news, November 26, 2018
The group of ZHANG Dawei divided the vitamin B12 biosynthesic pathway into six modules into which they engineered a total of 28 genes from R. capsulatus, Brucella melitensis, Sinorhizobium meliloti 320, ,S. typhimurium, and Rhodopseudomonas palustris. Each module was expressed in E. coli on individual plasmids or incorporated into the E. coli genome. After metabolic engineering to ameliorate cobalt chelation and remove module 4 bottlenecks, as well as optimization of fermentation conditions, vitamin B12 production was increased 250fold to 307 µg per g dry cell.
https://www.nature.com/articles/s41467-018-07412-6
CAS news release, November 26, 2018
The FRVT 2018 organized by the US National Institute of Standards and Technology (NIST) has measure advancements in the accuracy and speed of one-to-many face recognition identification algorithms searching enrolled galleries containing at least 10 million identities. According to Xinhua, Artificial Intelligence (AI) algorithms developed by Chinese researchers have won the top five places in a global competition in facial recognition technology. Two algorithms developed by YITU Technology have taken the top two places. Two algorithms developed by Sensetime came third and fourth with another developed by the CAS Shenzhen Institutes of Advanced Technology placed fifth. The test measures the performance of facial recognition technologies by using a database from ongoing criminal investigations and other real-life scenarios.
CAS news release, November 22, 2018
Yanming Rare Earth New Power Technology Co., Ltd. located in the Baotou Rare Earth High-tech Zone in Inner Mongolia might soon start mass production of a new type of Nickel batteries composed of lanthanum and cerium as the main components of the electrode materials. The new batteries are said to have high safety, long life, and high recyclability. They take only 8 minutes to fully charge, and they can withstand -55 °C low temperature. They will be used in electric buses and have been successfully tested in Baotou City's public transportation system for one year. IP is said to be fully Chinese.
Science and Technology Daily, November 20, 2018
According to the 2018 World Eco-Environment Remote Monitoring Report released by the Ministry of Science and Technology, CO2 emission intensity per unit GDP of China decreased by 46% between 2005 and 2017. Since 2013, there was nearly no growth in CO2 emissions in spite of a significant increase of GDP.
Japan JST China news, November 19, 2018
The group of SU Xiaoquan at CAS QIBEBT has established a "microbiome search engine" which is based on two indices: a microbiome novelty score MNS evaluates the compositional uniqueness of a microbiome sample at the time of its birth, whereas a microbiome attention score MAS quantifies the scientific attention devoted to the microbiome by counting the number of close neighbors of the microbiome. A microbiome focus index MFI, which is derived from MNS and MAS, then measures the impact and contribution of a microbiome sample to explorations for novel microbiomes.  The team hopes to thus identify "sleeping beauty" microbiomes that are still very novel in structure at present quantifies the number of close neighbors in the microbiome.
CAS news release, November 14, 2018
According to the Top500 list, China contributes 227 systems of the world's supercomputers compared with 109 of the United States. However, systems in the United States are, on average, more powerful and lead the top 10 with "Summit" and "Sierra," which have similar architectures with IBM cores and NVIDIA GPUs. China's Sunway TaihuLight supercomputer is ranked third with a performance of 93.0 petaflops, and Tianhe-2A of the National Supercomputer Center in Guangzhou is now number four. Germany's SuperMUC-NG ranks number eight. It was built by China's Lenovo, which produced 140 supercomputers out of the To500. The most energy-efficient system once again is RIKEN's Shoubu system in Japan.
CAS news release, November 13, 2018