The name of the new member of the news team is XIN Xiaomeng. She was created by Xinhua News Agency and the search engine Sogou and will make her debut during two sessions of the Chinese legislature meeting in March. She will be accompanied by a male AI trained in English or Chinese. Both presenters have the ability to stand and talk at the same time.
Xinhua German edition, February 26, 2019
The name of the new member of the news team is XIN Xiaomeng. She was created by Xinhua News Agency and the search engine Sogou and will make her debut during two sessions of the Chinese legislature meeting in March. She will be accompanied by a male AI trained in...
read more
Window-to-China
Overview of last view Blogs
Beijing has delivered close to 6000 5G base stations to three telecommunication operators by the end of May, 2019. According to Beijing Youth Daily newspaper, 4300 of these stations were already installed in Beijing's urban core areas such as the new airport, the International Horticultural Exhibition, Tiananmen square, Chang'an Avenue and venues for the 2022 Winter Olympics. By 2021, these core zones, the central business district of Beijing, and several innovation centers and ecotech development areas will have 5G network coverage.
Xinhua news, June 11, 2019

The group of SUN Xiaoqi from CAS Fujian Institute of Research on the Structure of Matter has developed a new method for the isolation of rare earth metals from softening ammonia sulfate wastewater produced during bastnasite ammonia sulfate roasting. Based on alkyl phenoxy carboxylic acid derivatives [4,4′-isopropylidenebis (phenoxyacetate)]as a cation exchanger, Ca2+and Mg2+are precipitated from the wastewater within 10 min, forming particles which can be easily separated. The ion exchanger was repeatedly used 5 times with little loss, contributing to a process with low cost and little pollution.
CAS news release, May 31, 2019

The group of PAN Xiulian and BAO Xinhe have developed a new ZnMnOx-zeolite catalyst which allows for selective syngas conversion to mixed light olefins with a high selectivity. The transformation of syngas to gasoline had a selectivity of 77% at 20% CO conversion and an aromatics content of < 16%. The ratio of isoparaffins to n-paraffins was 15, giving a research octane number of 92 in contrast to about 35~43 obtained by the conventional low temperature Fischer-Tropsch synthesis.
CAS news release, May 29, 2019
CRRC Qingdao Sifang Co., the train building company, is currently building an experimental center and a trial production center for high-speed maglev trains and expects to put them into operation in the second half of 2019. R&D of a five-carriage engineering prototype are reportedly going smoothly. The engineering prototype is scheduled to roll off the production line in 2020 and go through comprehensive tests to finish integrated verification in 2021.
Xinhua news release, May 24, 2019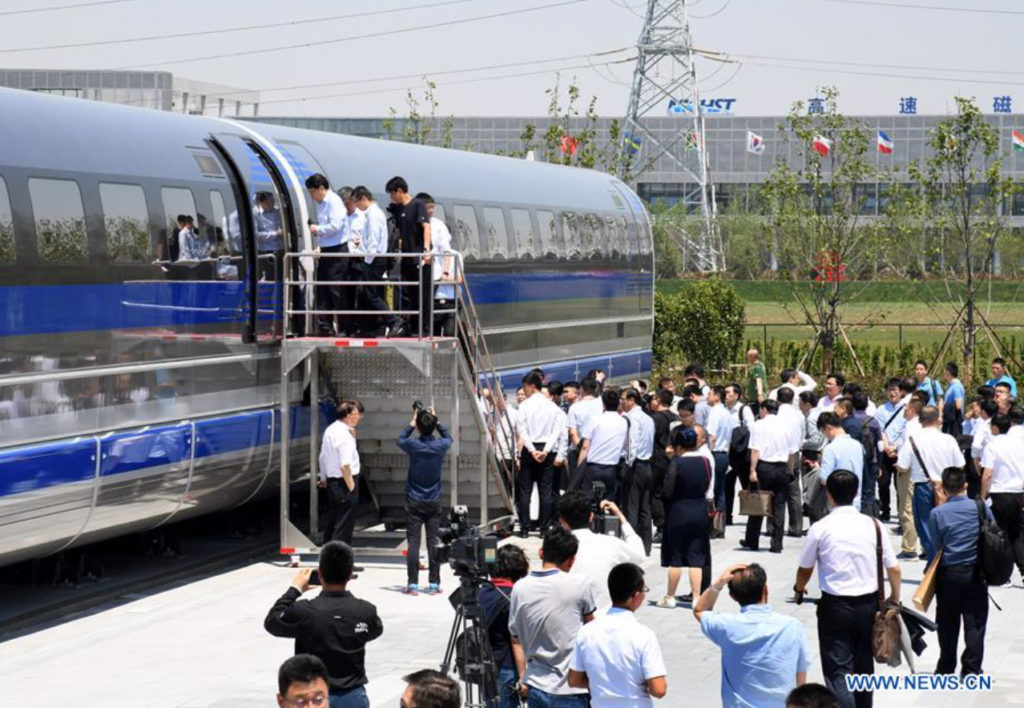 ZTE is a major international provider of telecommunications gears, competing with Huawei, Ericsson and Nokia for clients such as mobile operators. Its Rome laboratory, opened May 21, aims to provide global customers, regulators and other stakeholders with security assessment and audit services, such as source code review on ZTE products including 4G and 5G, security design audit, procedural document review, black box testing and penetration testing.
Xinhua news release, May 23, 2019
At the World Intelligence Congress held in Tianjin last week, Tianjin University and China Electronics Co. have presented a portable chip can which can identify minor neuron information sent by the brain wave from the cerebral cortex, efficiently decode the information and greatly quicken the communication speed between the brain and machine. It was claimed that the performance of the chip would be further enhanced for wider use in the fields of medical treatment, education, home life and gaming.
Xinhua Net, May 19, 2019
The Cangzhou Tianyuan Biotechnology Co. in central Henan province can now produce 60 tonnes of the antimalarial drug artemisinin per year by extraction of the sesquiterpene from Artemisia anna and subsequent recrystallization. The company is already delivering the drug to India and Sudan and is currently negotiating with Ghana for the construction of a second production facility. China's first Nobel Prize went to the scientist TU Youyou in 2015 for the discovery of artemisinin as an antimalarial drug.
CAS news release, May 15, 2019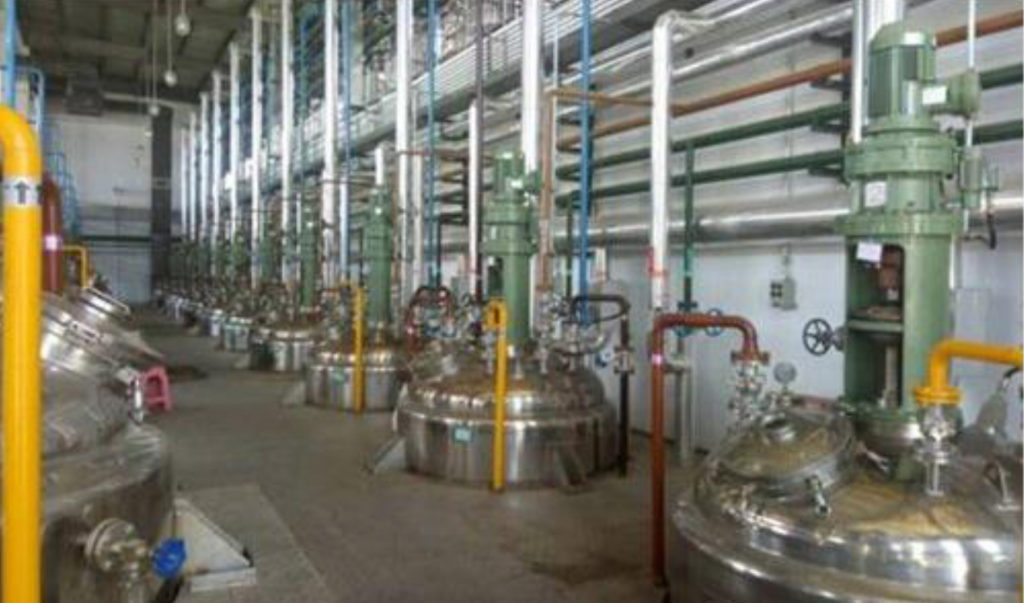 The purpose of the "Mars Base 1 Camp" in Jinchang City, Gansu Province, is to popularize science and promote interest in space exploration.
Xinhua, April 19, 2019
ZHONG Guohua at the CAS Shenzhen Institutes of Advanced Technology (SIAT) identified a unique superconducting phase with Tc in the range of 5K-7K for all aromatic hydrocarbons. The origin of a low-Tc phase was ascribed to low density of states at Fermi level induced by about two electrons doping, whereas the high-Tc phase of hydrocarbons with long benzene rings seems to be caused by high density of states at Fermi level upon three-electron doping. The study was published in Frontiers in Physics
CAS news release, April 4, 2019
A 100 kWh Na-ion battery (NIB) energy storage system was installed as a demonstrator to supplying power to the building of Yangtze River Delta Physics Research Center located in Liyang city. It was jointly developed by a team around HU Yongsheng from CAS Institute of Physics, and HiNa Battery Technology Co. The 30 kW/100 kWh NIB power station will store off-peak electricity from the grid and provide part of the electricity for the building of Yangtze River Delta Physics Research Center during on-peak period. Ton-level production lines of cathode and anode materials have been established, an NIB cell fabrication line with MWh production capacity has been built, and NIB pouch cells with energy density of 120 Wh/kg and cycle life of 2000 cycles have been developed. The performance of NIB packs in E-bikes, mini electric vehicle and household energy storage cabinets has been demonstrated, providing China with a leading position in research and commercialization of NIBs.
CAS news release, April 1, 2019
A joint research team of CAS QIBEBT and Ruhr-University Bochum found that cytosolic carbonic anhydrase (CA2) is a key sensor of the extracellular carbon dioxide level in microalgae. By knocking out this gene in Nannochloropsis, the algae showed higher pH tolerance, sustained pH hemostasis, stimulated energy intake and enhanced photosynthesis, resulting in in ~40% elevation of biomass accumulation rate under 5% CO2 which was reproducible across photobioreactor types and cultivation scales.
CAS news release, March 28, 2019
A joint research team of CAS Dalian Institute of Chemical Physics and Tianjin University have established a process to convert cellulose to 2,5-hexanedione with high selectivity, obtaining 71.4% of 2,5-hexanedione carbon yield after separation. In a second step, this chemical was converted to a C12 and C18 polycycloalkane fuel having a branched structure by an aldol condensation-hydrogenation-hydrodeoxygenation reaction with a carbon yield of 74.6%. The polycycloalkane obtained in this process showed high density (0.88 g/mL) and a low freezing point (225 K). In practical applications, it could be used as a high-density advanced aviation fuel, or as a fuel additive to increase the volumetric calorific value of aviation kerosene.
CAS news release, March 28, 2019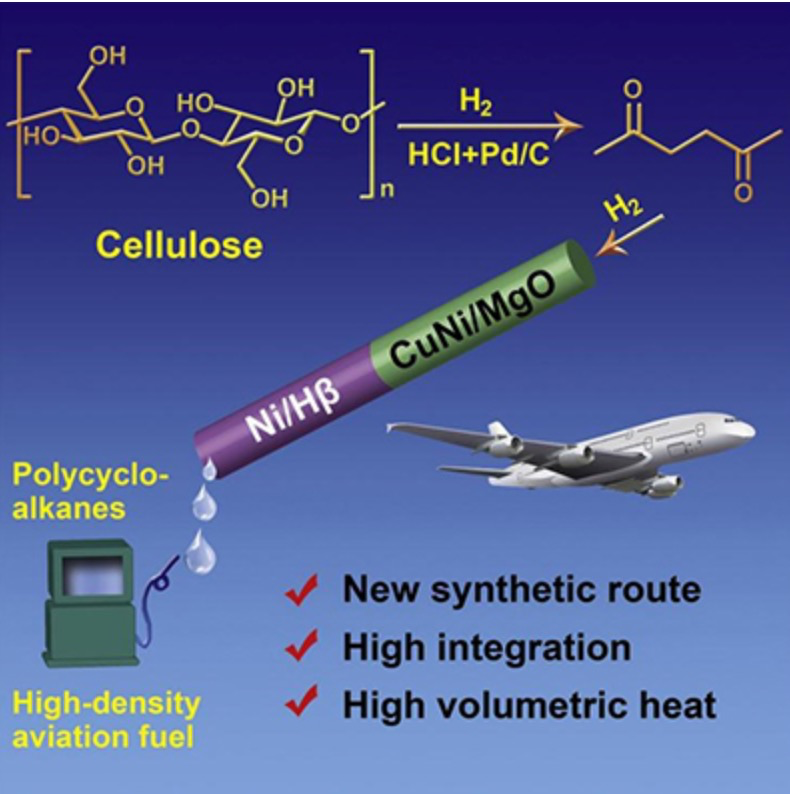 During Xi Jinping's visit in France in March 2019, space authorities from both sides signed an agreement to step up cooperation in space exploration. China will fly French experiments on its Chang'e-6 mission to return samples from the Moon in 2023-24, earth observation missions based on the China-France Oceanography Satellite (CFOSat) will be extended to ocean salinity and soil moisture, and a China-France project for building a Moon village is under discussion.
CAS news release, March 27, 2019

Senescent mesenchymal stem cells (hMSCs) are found in cartilage tissues isolated fromosteoarthritis patients suggesting a role of these cells in the disease. A joint research group of CAS Institute of Zoology, Institute of Biophysics and Peking University have now found in animal experiments that a protein, CBX4, protected hMSCs against cellular senescence through the regulation of nucleolar architecture and function. CBX4 protein was downregulated in aged hMSCs whereas CBX4 knockout in hMSCs resulted in destabilized nucleolar heterochromatin, enhanced ribosome biogenesis, increased protein translation, and accelerated cellular senescence. The researchers conclude that CBX4 maintains nucleolar homeostasis by recruiting nucleolar protein fibrillarin and heterochromatin protein KRAB-associated protein 1 (KAP1) at nucleolar rDNA, limiting the excessive expression of rRNAs.When CBX4 was overexpressed in mice, the development of osteoarthritis could be attenuated. This suggests that gene therapy might be a future therapy for the alleviation of osteoarthritis in man.
CAS news release, March 26, 2019

Global consumption of fish for food increases by an annual 3.2 % and production is mostly carried out by extensive or semi-intensive aqua farming, leading to methane and NOx emissions (1.82 % and 0.34 %, respectively, of global emissions). China is among the major countries involved in such type of aquaculture. Investigations by DING Weixin and colleagues from the CAS Institute of soil sciences suggest that if such systems could be replaced by intensily managed aquaculture farms based on efficient aeration, optimized feeding and reduced feed waste, emissions might be cut by 40 %.

CAS news release, May 15, 2019