In a review in Currrent Biology published on January 24, researchers around LI Yiming of CAS Institute of Zoology discuss evidence that economic corridors between core cities and key ports along traditional international transport routes may also lead to the introduction of invasive species into new areas which may threaten native species and biodiversity. According to their analyses, approximately 15 percent of areas in BRI countries have high overall introduction risks of new vertebrate species as people and cargo move about. The researchers identified 14 "invasion hotspots". Based on these findings, they call for stricter screening for alien wildlife, including imported commodities, vehicles, and equipment through airports and seaports and along other transportation corridors. Noting limited resources in many BRI countries, they also suggest the establishment of a special fund to support the operation of biosecurity measures.
CAS news release, January 25, 2019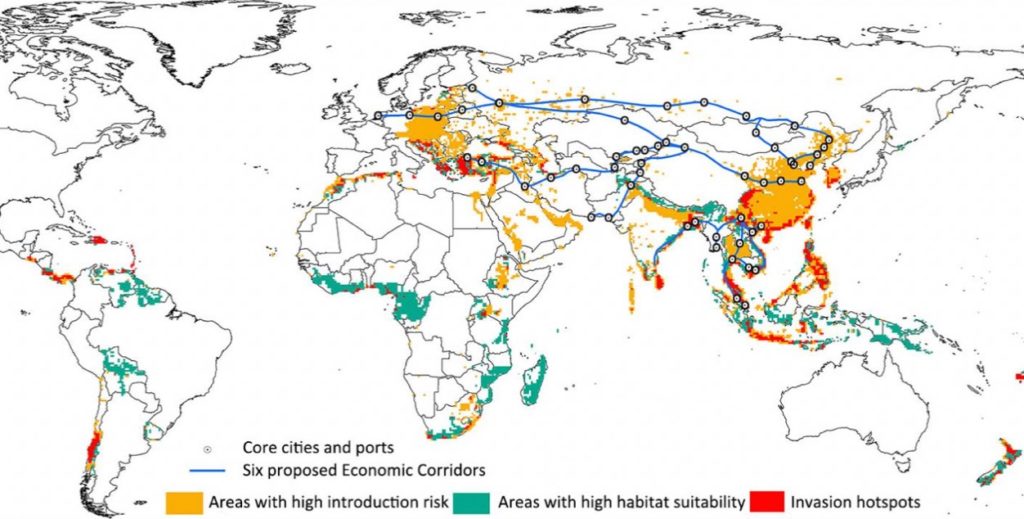 In a review in Currrent Biology published on January 24, researchers around LI Yiming of CAS Institute of Zoology discuss evidence that economic corridors between core cities and key ports along traditional international transport routes may also lead to the...
read more
Window-to-China
Overview of last view Blogs
According to a report by the China's National Energy Board, by October 2018 ultra-low emission coal-fired power generation equipment in China reached over 700 million kW. Due to ultra-low emissions and energy savings, annual emissions of sulfur dioxide, nitrogen oxide and flue dust in China's coal-fired power generation industry has drastically decreased since 2014, and standard coal usage for power supply also tends to decrease.
Japan JST China news release, February 14, 2019
According to a recent post in Science Daily, construction of the first space base for an experimental solar power station has begun in Chongqing. A small to medium-sized stratospheric photovoltaic power plant will be built between 2021 and 2025. After 2025, larger-scale space photovoltaic power plant systems will be investigated, with a ground verification platform in Xi'an. The long-term goal is to establish a Gigawatt commercial photovoltaic power plant in space by 2050.
Japan JST China news, February 14, 2019
Previous studies had shown that mesenchymal stem cells from human bone marrow have the potential to differentiate into hepatocyte-like cells in vitro and continue to maintain essential hepatocyte functions after being transplanted into host mouse livers. After HBV infection, the humanized mice developed specific immune and inflammatory responses and showed progression to chronic hepatitis and liver cirrhosis, providing opportunities for better understanding the immune pathophysiology of HBV and testing promising antiviral therapies in vivo. According to WHO, an estimated 257 million people are living with HBV infection, and over 100 million among them in China.
CAS news release, February 12, 2019

A team from Yangzhou University, CAS Institute of Process Engineering and the University of Technology in Sydney has developed a mthod which killed model Escherichia coli under visible-light irradiation within 30 min, by using an edge-functionalized graphitic carbon nitride (g-C3N4) as the photocatalyst. The authors believe that edge functionalization generated an anisotropic electric field that promoted the separation of photo-generated electron-hole pairs, leading to disruption of membranes. The method may eventually be used to prepare pathogen-free water by photocatalysis.
CAS news release, February 8, 2019 

According to a report of China Daily, 6,300 freight trains travelled between China and Europe in 2018, 72% more as compared to 2017.
China Daily German edition, February 1, 2019

Jinan, capital of Shandong province, has already built one of the largest and most functional commercial quantum communication networks, named "Jinan Quantum Communication Test Network". The city now pushes for a National Institute of Quantum Information Science.
Japan JST China news, January 31, 2019

A team around Junling LU has developed a catalyst based on atomically dispersed iron hydroxide on Pt nanoparticles which allows to purify hydrogen fuel efficiently over a temperature range from -75 – +107 C. This PROX -catalyst (for preferential oxidation of CO in hydrogen) protects hydrogen fuel cells against CO poisoning during both frequent cold-starts and continuous operations under extremely cold temperatures, paving the way for the development of hydrogen-based fuel-cell cars.
CAS news release, January 31, 2019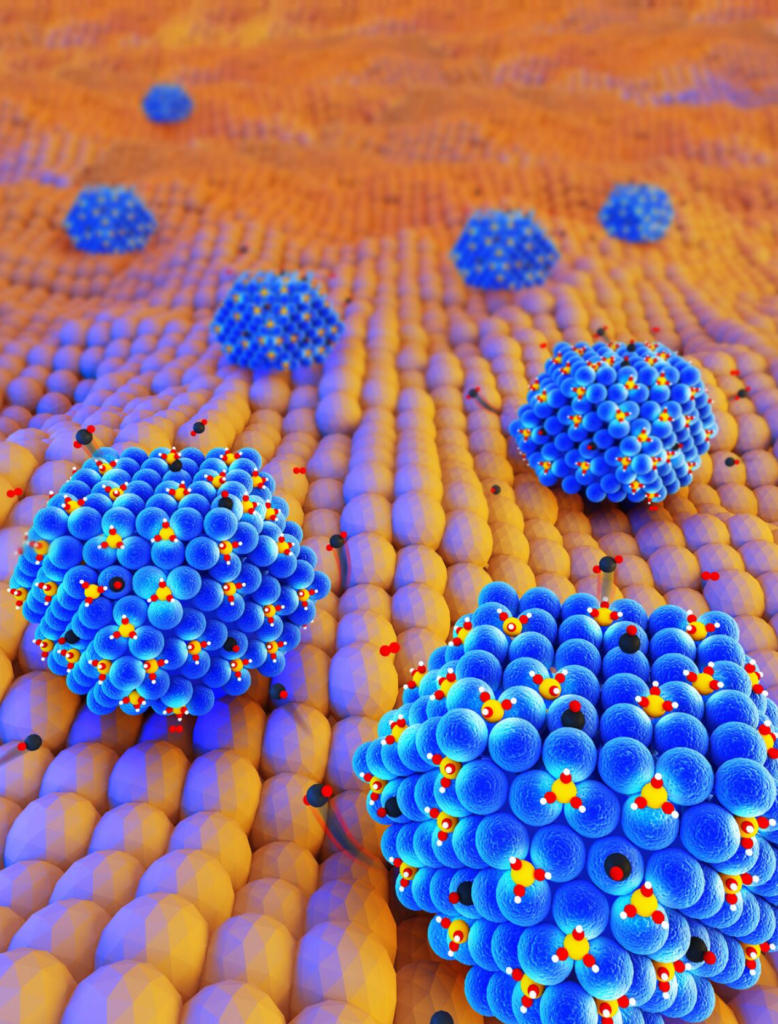 © Junling LU, University of Science and Technology of China

According to a report by the National Energy Bureau of China, renewable energy capacity increased by 12 % in 2018 and reached 728 million kW. Hydropower capacity increased by 2.5% to 352 million kW, wind power by 12.4% to 184 million kW, solar power by 34% to 174 million kW, and biomass power by 20.7% to 17.81 million kW. Renewable energy accounted for 26.7% of all electricity generation.
Japan JST China news, January 30, 2019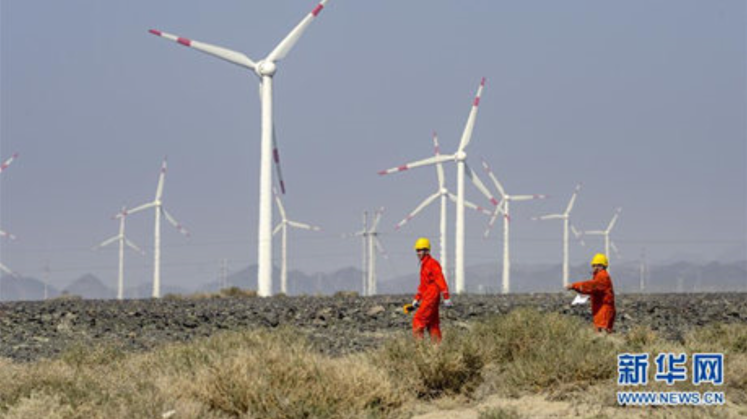 Xining is a gateway to Tibet and at a level of over 2,000 m. Last April, the provincial government adopted a plan to develop new wireless technologies, such as the 5G network. According to telecommunications companies, 5G technology can narrow the information service gap between Qinghai's Tibetan inhabited regions and the rest of China.
People's Daily German edition, January 30, 2019
According to the report, the Italian taxi federation URI has accepted payment by Alipay, a subsidiary of the Alibaba group. Chinese customers who visit Italy can now pay in many cities such as Rome, Milan, Florence etc. by their mobile phones. According to a Nielsen market report, settlements by Chinese customers exceeded already cash settlement last year.
Japan JST China news, January 29

A research team led by XIAN Mo and ZHANG Haibo from the CAS Qingdao Institute of Bioenergy and Bioprocess Technology has developed a new method for the preparation of modified bacterial cellulose. Using the microorganism Komagataeibacter sucrofermentans, they prepared a functionalized nanobacterial cellulose, modified with 6-carboxyfluorescein, using 6-carboxyfluorescein-modified glucose as a substrate. The results keep promise that various substituents can be incorporated into cellulose by in-situ fermentation.
CAS news release, January 28, 2019
Broomcorn millet (Panicum miliaceum L.) was domesticated on the Loess Plateau of Northern China as early as 10,000 years ago. It achieves the highest amount of grains produced with the same amount of water. ZHANG Heng and ZHU Jiankang from CAS Shanghai Center for Plant Stress Biology have sequenced the genome of this plant and laid the foundation for studying the exceptional stress tolerance of this plant as well as its C4 biology.
CAS news release, January 28, 2019
China's Geological Survey Agency has reported the discovery of 11,7 trillion (11,7 x 1012) cubic meters of shale gas reserves in western part of Hubei province. Preliminary tests on hydraulic crushing were promising, and might eventually lead to an annual production of 10 billion m3.
Japan JST China news, January 28, 2018
The group of ZHANG Jian at CAS Ningbo Institute of Materials Technology and Engineering, in collaboration with Zhejiang Sugar Energy Technology Co., have developed a green and economical technology to produce HMF from fructose. Both catalyst and solvent were recycled at a scale of 2,000 t/a of HMF. To speed up the industrialization process, the team also completed the fructose dehydration step at a scale of 10,000 tons of HMF annually, achieving a molecular yield above 82%.
CAS news release, January 25, 2019

The New Year travel rush in China has started 15 days before the Spring Festival, which takes place on 5 February. Within 40 days, from January 21 to March 1, China's transportation systems are preparing for nearly three billion passengers as people travel to family celebrations across the country. At several major train stations such as Beijing or Hangzhou, facial recognition technology is being used so that passengers can check in with their identity cards in just two seconds. Some stations have installed robots that can communicate with passengers and answer general queries on topics such as train schedules and weather information in destination cities. Online payment for train tickets and payment with the popular Alipay mobile payment system is tested on several major routes.
People's Daily German version, January 24, 2019